Upcoming Screenings
Tuesday, February 6, 2018, 11 am
Eagle Hill School, Hardwick, MA
Filmmaker, Abby Ginzberg present for Q and A following the film
Thursday, February 8, 2018, 6 pm
UC School of Public Health (2199 Addison Street, Berkeley, CA)
Filmmaker, Abby Ginzberg present for Q and A following the film
Friday, February 9, 2018, 5:30 pm
Lowell High School – SF – 1101 Eucalyptus Drive, San Francisco, CA
Free community screening in honor of Social Awareness Week. Q and A with filmmakers and Satsuki Ina
Saturday, February 10, 2018, 1 pm
Unitarian Universalist Church of Davis – 27074 Patwin Road, Davis, CA
Saturday, February 10, 2018, 1 pm-4 pm
Sacramento – California Museum
Satsuki Ina, who is featured in the film , will be present for the Q and A
Tuesday, February 13, 2018, 6:30 pm
Washington, DC Premiere
Post screening discussion to include Rep. Judy Chu (CA-27), who introduced H.R.4271, which would block implementation of President Trump's executive order blocking travel from majority Muslim countries and prohibit the use of any funds for Executive Order 13780; attorney Don Tamaki and filmmaker, Abby Ginzberg.
Capitol Visitor Center – Orientation Theater South; First St NE,  Washington, DC 20515
RSVP:   https://goo.gl/forms/mSp0RpWlf2624dNL2
Due to security all attendees must RSVP. Registered attendees will receive additional attendance information via email prior to the event.
Tuesday, February 20, 2018, 6 pm
University of Connecticut, Stamford Campus
Wednesday, February 21, 2018, 5:30 pm
Hartford, CT – UConn screening – Spotlight Theater- Front Street 4
Filmaker and Karen Korematsu in attendance
For more info: https://thedoddcenter.uconn.edu/2018/01/17/2-21-18-day-of-remembrance-and-then-they-came-for-us/
Saturday, February 24, 2018, 10 am
Films of Remembrance – New People Cinema (1146 Post Street, San Francisco, CA)
Filmmaker, Abby Ginzberg and Satsuki Ina present for the Q and A
Order tickets here: www.nichibei.org/films-of-remembrance
Saturday, February 24, 2018, 12:30 pm
California LAW Annual Pathway to Law Summit -USF Law School (2130 Fulton Street, San Francisco, CA)
Filmmaker, Abby Ginzberg and Satsuki Ina present for the Q and A
Wednesday, March 14, 2018, 6pm
UC Santa Cruz screening
Filmmaker Abby Ginzberg and attorney, Don Tamaki present for Q and A
Tuesday, March 20, 2018, 6:30 pm
NYC Premiere – Angelika Film Center (18 West Houston Street, NY)
Post-screening discussion with filmmaker, Abby Ginzberg, Satsuki Ina, assistant ICP curator,  Susan Carlson and photo historians, Richard Cahan and Michael Williams
June 29 – November 19, 2017 – closed – we are looking for different venues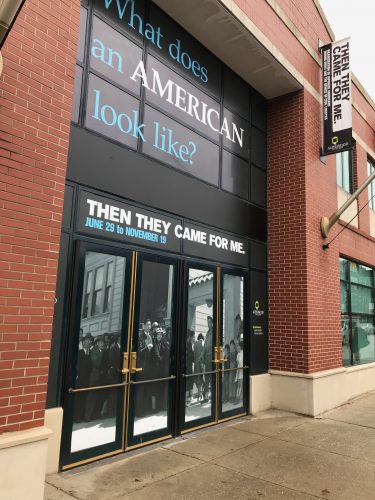 Exhibition at Alphawood Gallery in Chicago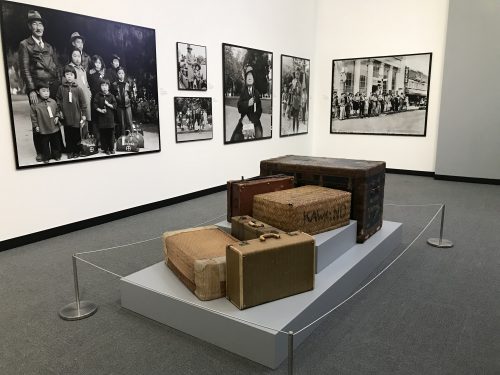 For more upcoming screenings click here
As members of the Trump administration have raised the specter of a Muslim registry and instituted an immigration ban against people from Muslim majority countries, they have cited the unconstitutional incarceration of Japanese Americans during World War II as the precedent.
As the documentary And Then They Came for Us demonstrates, the registration and incarceration of Japanese Americans was one of the worst violations of constitutional rights in American history.
The film documents through the use of photos taken by Dorothea Lange and others, the damage this order did to 120,000 people, two thirds of whom were American citizens.  Featuring George Takei and many others who were incarcerated, And Then They Came for Us, demonstrates the importance of speaking up against any efforts to register or ban Muslims today.  Knowing our history is the first step in making sure we do not repeat it. And Then They Came for Us is a cautionary tale for these dark times.