'Shooting Ghosts' co-authors Thomas Brennan from The War Horse and Finbarr O'Reilly featured on
Truth, Costs & Consequences of Nonprofit Investigative Reporting
We are pleased to share two videos, one from our recent research presentation on measuring the impact of investigative reporting stories, the second about the challenges investigative reporters face doing their important work.  The Foundation commissioned Associate Professor Matthew L. Hale, in the Department of Science and Public Affairs at Seton Hall University, to analyze the impact of a cross section of investigative reporting from selected non-profit news outlets. You can watch/download the videos and reports by clicking on the links below.
Truth, Costs & Consequences of Nonprofit Investigative Reporting – Video Part 1
Truth, Costs & Consequences of Nonprofit Investigative Reporting – Video Part 2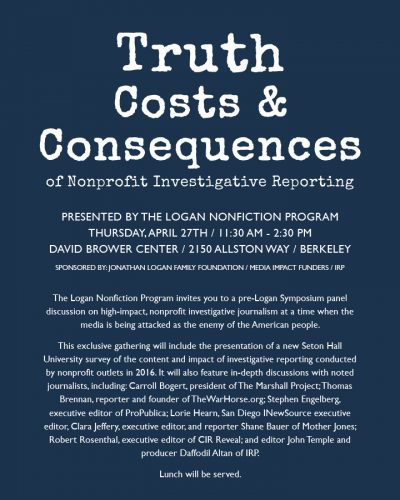 Nonprofit Investigative Journalism Presentation Slides
Nonprofit Investigative Journalism Executive Summary
Nonprofit Investigative Journalism Conversations about Impact and Reach
Nonprofit Investigative Journalism Content Analysis Section
For more information please go to Seton Hall 
And Then They Came for Us

The West Coast Premiere of And Then They Came for Us, a documentary by Abby Ginzberg and Ken Schneider with major funding from the Jonathan Logan Family Foundation, happened in May at the DocLands Documentary Film Festival in Mill Valley. To see upcoming screenings happening in your area go to thentheycamedoc.com

Code of Silence
"Code of Silence" was awarded first place at the BGA Driehaus Investigative Reporting Awards for 2017
Jamie Kalven wins the Hillman Prize for Web Journalism for his work about the Chicago Police Department in the Code of Silence. In a four-part investigation for The Intercept, Jamie Kalven describes in rich narrative detail a massive criminal enterprise within the Chicago Police Department, the institutional conditions that allowed it to operate with impunity, and the fate of two officers who sought to expose it.
Bancroft Library
The Reva and David Logan Seminar Room opened it's doors in April of 2017 on the 3rd floor of the Bancroft Library. This room houses part of the Reva and David Logan collection of photographic books.